MacCetera's Client Design Gallery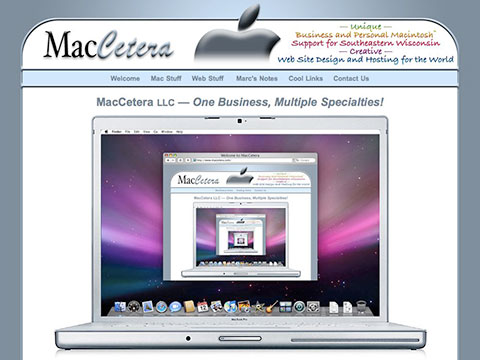 Our focus is on crisp, clean design
We don't offer "pre-packaged sites" like many of our competitors. Instead, we learn about our client's business so the result is tailored to their needs and right on target.
Our designs are ideal for the small-business owner
Many small businesses don't have the time or manpower available to learn the skills required to effectively design, deploy and maintain a web presence.
If your business needs an affordable place on the internet, please consider MacCetera as your dedicated resource.
We only use power tools in our workshop
We use the right tools for the job. Photoshop and Flash for graphics content creation, and Dreamweaver and BBEdit for web page construction. Our designs favor HTML over XHTML because that is where the industry is headed.
We believe that content structure and content appearance are separate elements of the design. The structure is cleanly executed in HTML with the appearance managed efficiently through CSS. This division of form and function means that your site is standards compliant, light-weight, and will present consistently across all current browsers on Windows and Macs (and the renegade Linux crowd too!)
We have experience handling all aspects of establishing your web presence...
Complete web site design or existing site redesign. With options that enable you to easily and efficiently perform your own content updates.
Competitively priced domain name registration. A domain registered by MacCetera for you belongs to you, we just handle the details.
Full service web site setup, hosting and maintenance. Our leased hosting servers provide 99.9% uptime on a redundant tier 1 Cisco network.