LifeBuilders

A Ministry of Christ–Centered Comfort, Care and Concern
Who Are We?
"Praise be to the God and Father of our Lord Jesus Christ, the Father of compassion and the God of all comfort, who comforts us in all our troubles, so that we can comfort those in any trouble with the comfort we ourselves have received from God. For just as the sufferings of Christ flow over into our lives, so also through Christ our comfort overflows. If we are distressed, it is for your comfort and salvation; if we are comforted, it is for your comfort, which produces in you patient endurance of the same sufferings we suffer. And our hope for you is firm, because we know that just as you sufferings, so also you share in our comfort."
II Corinthians 1: 3-7
We are a Ministry of Comfort—
We are fellow-strugglers in the spiritual battles of life; we pray that where the sufferings of Christ spill over into our lives, so also through Christ our comfort will flow over into the lives of others. As fellow-members of the Body of Christ, we recognize that when one part of the Body suffers, the rest of the Body suffers with it. We count it a privilege to be fellow-sufferers and make ourselves available to the Body of Christ for that purpose.
We are a Ministry of Care—
We aim to provide care in community; we believe growth takes place in relationships which are based on grace and truth. We commit to model such relationships in the care we provide and to assist others in their relationships with God, self and others.
We aim to provide care that is competent; although we are not professionally trained, we are committed Believers in Christ with identified spiritual gifts in the areas of comfort, care and concern. We are members of Elmbrook Church with entry-level training in pastoral care and counseling.
We are a Ministry of Concern—
We are concerned about the individual, church community, and general community. We aim to address those issues which plague the world and Christian community and which hinder Christian growth.

Karen Scheel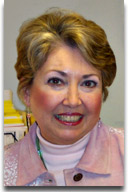 Karen Scheel has been on staff at Elmbrook since 2002 where she serves as Ministry Director for LifeBuilders, the Elmbrook lay counseling and support group ministry. Karen has a B.A. in Accounting and Business. After a number of years combining a full time business career with one-on-one counseling, Karen answered a call to full time ministry at Elmbrook. She is currently attending Trinity Seminary in pursuit of a Master's degree in Theology.
Karen and her husband Dan have one adult child and two perfectly wonderful granddaughters who live in Maui, Hawaii with their parents. Karen combines teaching, training, counseling, speaking, and school with her full time job at Elmbrook. Busy, but doing what she loves, she enjoys visiting her grandchildren, walking, reading and raising orchids in her spare time.
Karen Scheel, LifeBuilders Director
262-754-1259
262-754-1257 FAX

Dawn Bednarek, Administrative Assistant
262-780-1861