Marc's Notes: Comments, Ramblings, Rants & Tips
Affordable Mac Pro eSATA Storage
USB ... FW ... what about almost free eSATA?
The base Mac Pro supports three interface options for adding external drives: USB, FW400 and FW800. eSATA is not available, but the Mac Pro has two spare SATA connections languishing on the main logic board. I've subsequently turned these into a pair of eSATA ports and connected them to a pair of Seagate 1 TB drives in a SanDigital MOBILESTOR MS2T+ case.
Adding the eSATA ports to the back of the Mac was facilitated with a NewerTech eSATA Extender Cable for $25 from OWC. There are other places that sell similar port extenders, but the NewerTech set has cables that are the right length and configuration for the Mac Pro, and comes with very complete installation instructions to do the job the right way rather than simply drape the cables across the PCIe bay. Apple does NOT support any known use of these ports. They were kind enough to provide them on the logic board. but are otherwise not something you'll get help with at your local Apple Store.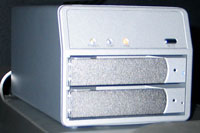 A really good case, the MOBILESTOR MS2T+ lists for $110. NewEgg sells it for $80. The MS2T+ has an internal power source, using a standard grounded power cable, and has a quiet internal fan. It comes with all cables and hardware to complete the assembly, which is really a breeze. The bays are latched, slide out trays with light-pipes indicating activity on each drive. The panel has power, temp and fan lights, and the button is to mute the temp alarm, which I have yet to hear. The power switch is on the rear, and at 4.8W x 8.0D x 4.0H, it sits nicely on the top of my Mac Pro.
The pair of Seagate 1 TB drives was under $200 after taking advantage of a fewa deals that came along. OWC currently lists the 1 TB 7200.11 drives for $120 each.
Hot swap? Not!
WARNING: eSATA setup in this manner means these are pretty well considered internal drives by Mac OS X. Apple does NOT support hot swapping of drives connected to the internal ports, so make sure that the MOBILESTORE is powered up when the Mac is booted, and always shut down Mac before disconnecting the external drives.
Mirror, mirror on the wall... individual drives are the fairest of them all.
These drives are setup as two individual 1 TB drives. Initially I set these up as a software mirror RAID 1 with Apple's Disk Utility. I gave up on that after a couple of months and 3 or 4 five-hour RAID rebuilds after one drive would persistently fail out of the mirror. Add that while hardware redundancy is provided with a mirror, so is data corruption. As a backup system, I want a belt and suspenders.
Since the case is simply a JBOD (just a bunch of disks) box, with two eSATA connections which simply connect to both the eSATA ports on the Mac Pro, you don't need to mirror the drives, and they don't have to be the same size. For my needs, adding an external setup that smokes at full eSATA II speed, for about $300 complete, was a nice addition.
Currently one drive serves as my active Time Machine backup for two 500 GB internal drives. Since neither of those drives will ever fill to 100% capacity, I'm not worried about this drive only matching the total size of those it protects and serves. Should that become an issue, I have the perfect excuse to upgrade it to a 1.5 TB drives someday.
The second drive is a weekly clone of the first. I run SuperDuper in the wee hours of Sunday morning and use the Smart Backup option wrapped in a pair of shell scripts that stop and restart Time Machine. Local Time Machine backups tend to have amazing high file counts. With a set going back almost 8 months, the count is about 6 million file references and occupies a mere 700+ GB of space. The weekly update runs out in 3-1/2 hours. Should the primary drive get damaged or fail, I will still have the deep end of my Time Machine storage ready to use on the secondary drive.
If you're interested in the two, one-line scripts that disable / enable TM backups, drop me a note.
Copyright © 2003-2008 by MacCetera, a Wisconsin LLC owned by Marc & Tammy Wolfgram
Mac OS, Macintosh, and other like terms are all trademarks of Apple, Inc. - 25-Oct-2009