Marc's Notes: Comments, Ramblings, Rants & Tips
Random Favorites iPod Playlist
If you're like me, you have an broad and eclectic range of music including a host of albums that are collecting digital dust.
For the average Joe—or Jane—with a cool iPod and a respectable music collection, populating the best little sound machine with a diverse and creative selection of favorite tracks can be a tedious task.
I put together this tip as a way to simplify the process of loading you iPod with what you've been meaning to play but just haven't taken the time to check the box.
Here are the features this brings to your music mix:
The pool of songs is an easily selected subset of your entire iTunes Music Library.
You can pick and choose which favorites are in this pool without worries about how much space they will take up on your iPod.
The songs that actually get loaded are picked at random from the pool.
At each iTunes sync, played songs are bumped out for awhile and others from the pool come in.
Once set up, it almost feeds and bathes itself—no muss, no fuss.
It annoys my wife and daughter as the songs tend to be ones they don't hear every day (I mentioned eclectic range above).
The iTunes setup
Create a plain old ordinary playlist. I called mine Marc's Songs for this example.
Put all your favorite music into it—dragging artists or albums in is a lot easier than checking boxes on individual tracks—it doesn't need to be too finely minced at this point.
Create a Smart Playlist. Keeping in form, I used the name Marc's Playlist , and then set its selection rules as illustrated here: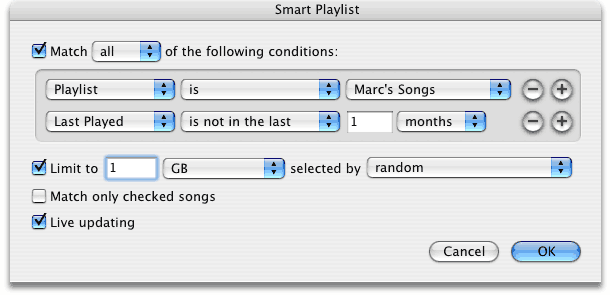 With you iPod mounted, select iPod Options and select manage your iPod manually. Then in the list of available playlists select your smart playlist.
You're done — let it sync and hit the road with random tunes.
Copyright © 2003-2008 by MacCetera, a Wisconsin LLC owned by Marc & Tammy Wolfgram
Mac OS, Macintosh, and other like terms are all trademarks of Apple, Inc. - 25-Oct-2009