Marc's Notes: Comments, Ramblings, Rants & Tips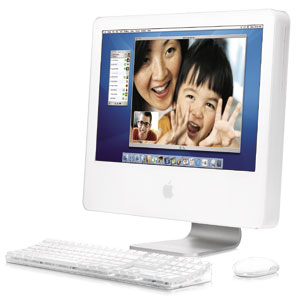 We now offer specialized iMac G5 logic board repair!
Hartland WI, September 2009
MacCetera and Pure Logic have joined forces to provide an economical solution to the infamous iMac G5 capacitor problem!
It's a sad story - you own a 1st or 2nd generation 17" or 20" imac G5, a breakthrough Mac that you loved from day one. But your wonderful iMac is having some strange problems:
It randomly shuts down and doesn't easily restart.
It won't always turn on.
It's just dead.
The display is jittery or has strange artifacts.
There is a good chance that the problem is a very common failure of one or more of the power capacitors on the iMac's main logic board (MLB).
Google something like "iMac capacitor" to get a feel for how common this problem actually is.
The primary iMacs affected by this problem were produced between August 31, 2004 and October 12, 2005. This covers all the G5 iMacs produced that don't have the built-in iSight camera.
Do you have an iMac G5 you don't want repaired?
We may be interested in purchasing your iMac G5 — Get some cash and keep an iMac out of a landfill.
Models we're looking for are:
Screen
Size
EMC

*


Number
CPU
Speed
Marketing
Models

17"

1989

1.6 GHz

M9248 or M9863

1.8 GHz

M9249 or M9823

2055

1.8 GHz

M9843

2.0 GHz

M9844

20"

2008

1.8 GHz

M9250 or M9824

2056

2.0 GHz

M9845
Contact us for more information.
* The EMC number can be found on lower-right corner of the label located on the bottom your iMac's metal base.
The problem was so pervasive that Apple extended service to 3-years from date of purchase for these models.
iMac extended service was closed on December 15, 2008.
There is no longer any warranty service for these Macs from Apple!
Out of warranty repair - which now includes all affected iMacs - is expensive. Apple will replace the MLB for more than $800. It's easy to see that it is a hard choice of repairing your iMac vs. buying a new one, when for only a few hundred dollars more you can own a sexy new Intel model with a larger, glossy display and greater capabilities.
But can you afford the price of a new iMac - or even the cost of repairing your trusty G5?
The technical details of the problem is this: the electrolytic power capacitors degraded over time because the supplier provided faulty components to Apple. In most cases replacing the capacitors will restore proper operation to your afflicted iMac.
We've seen many iMacs with this problem, and began investigating an alternative to the panacea of expensive MLB replacement.
With the help of Pure Logic of Hartland, WI, we now offer full MLB capacitor replacement at a low fixed-rate at a fraction of Apple's replacement cost.
Will this fix your iMac?
The short answer is this: If your iMac has bulging, shorted, leaking, or bad capacitors in evidence, it probably will.
Read more about our specialized iMac G5 repair program here.
Copyright © 2003-2008 by MacCetera, a Wisconsin LLC owned by Marc & Tammy Wolfgram
Mac OS, Macintosh, and other like terms are all trademarks of Apple, Inc. - 25-Oct-2009