Marc's Notes: Comments, Ramblings, Rants & Tips
Dreamweaver Sites and the Keychain Sync of Death
Now that Macromedia is Adobe, the more liberal installation license policies of Adobe have been granted to us in the CS3 release of the Macromedia world of products. That's great for someone like me, who does primary development in the "office" on my main Mac, but hauls the jewels around to clients on my "home" Macbook Pro. (Or is it my "work" Macbook Pro and my "home" Mac - so hard to keep this straight these days.)
This means that my Adobe CS3 Web Professional Suite occupies disk space on both of these Macs... along with more or less identical copies of my client's web sites. (Need a quick change? Just a minute... there you go!)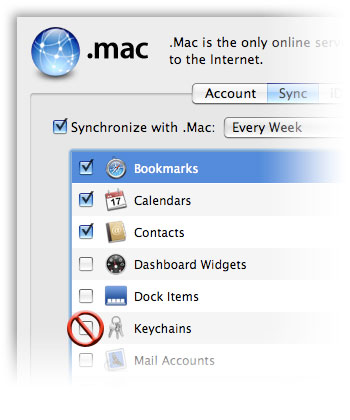 .Mac sync services
Being a loyal .Mac person (since Jan 7, 2000 when it was free) I have enjoyed the use of .Mac sync services for quite some time. This lets me grab a bookmark, add an e-mail contact, or schedule an event on any of my Macs, and it will eventually be commingled with my other bookmarks, address and events on all the other Macs I use. It's really nifty.
Another item that sync services supports is the wonderful Mac OS X Keychain. Just check the box and your keychain items will propagate between your Macs, giving you access to all the secret settings that are protected from prying eyes.
Pretty cool! But then it's a Mac thing, so cool is expected.
What horked my Dreamweaver credentials?
I started seeing a problem with the site settings for a few of my Dreamweaver sites settings... nothing to drastic... just the wrong FTP name/password pair occasionally, which I could easily correct and move on. Still it was a curiosity and I spend the idle seconds between hitting the pillow and comatose pondering curiosities.
The pondering became a few dedicated hours of research today, as I couldn't get onto a site that I had forgotten the name/password for.
Enter the keychain
This shouldn't be too tough, since I've noticed Dreamweaver items in my keychain, an awful lot of them in fact. Too tough is relative. It seems that the folks at Adobe decided that the name and the password each deserved their own keychain item, so each site had two keychain components.
OK... so for, say 34 sites, that's 68 items. Whatever floats their boat. I'm getting really good at typing my admin password viewing keychain items.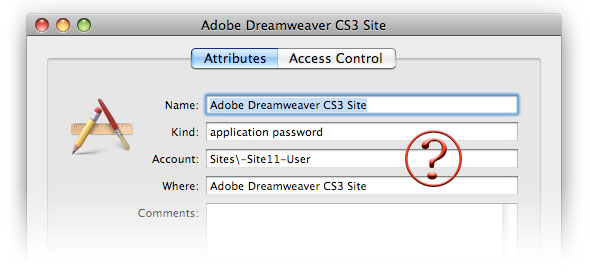 But hey, what's this?
Which site of mine is Site11?
Is this the eleventh site defined on THIS Mac?
Pausing for an epiphany moment as the sequence of various otherwise unrelated mechanisms come together in such a way as to yield one last question:
What the heck were those silly Adobe engineers smoking when they white-boarded this design scheme?
Now the true nature of the problem is painfully clear. Follow along if you missed the epiphany above.
Wrap up and endgame
Two Macs, two (legal) installs of Adobe Dreamweaver CS3, both have a bunch of random sites defined, with FTP names and passwords stored in their respective keychains.
On Mac 1 (think of this as a still relevant PowerMac Digital Audio, dual 1.8GHz G4) the eleventh site was defined for johndoe.com.
On Mac 2 (a kick-butt MacBook Pro that is my constant companion and lap warmer) I defined site 11 as a proposal mockup for janedoe.org.
Now, I have my .Mac account set to sync certain things including my keychains.
During a routine weekly sync, the janedoe.org keychain elements from Mac 2, identified as Sites\-Site11-User and Sites\-Site11-User PW, replace the two items on Mac 1. In the sync of an eye johndoe.com has bad FTP access credentials.
A few weeks later I need to make a change for John, and find the FTP broken. I dig through my records and find the login stuff, fix it, and complete John's work. But now the keychain items for site 11 are newer on Mac 1, so pretty soon, they will corrupt the settings on Mac 2 for Jane's site.
One less thing to ponder now that I've turned off keychain syncing for the foreseeable future. It isn't a problem with sync services, just a problem with Adobe's use of the keychain. Good software architects are hard to find these days I guess.
Now I'm off to see if I can find the Dreamweaver login stuff for that site I lost today...
Copyright © 2003-2008 by MacCetera, a Wisconsin LLC owned by Marc & Tammy Wolfgram
Mac OS, Macintosh, and other like terms are all trademarks of Apple, Inc. - 25-Oct-2009